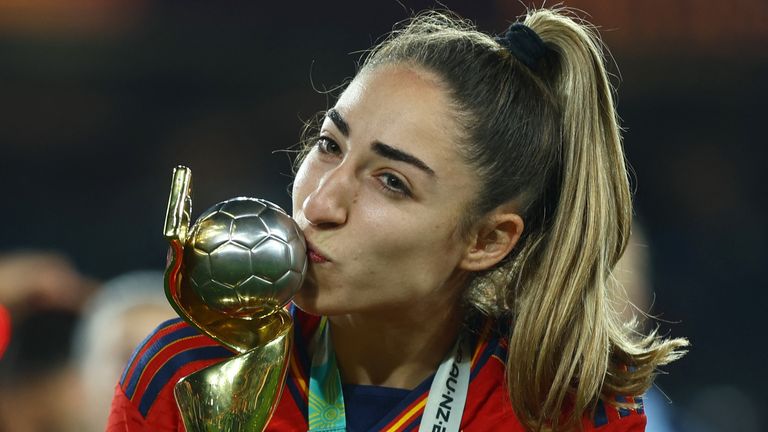 The Spanish star who scored the winning goal against England in Sunday's World Cup final has offered a tribute to her father who she found out had died after the game.
Olga Carmona's 29th-minute strike was all that separated the sides in Sydney, securing a 1-0 win.
Carmona, 23, posted her tribute on X (formerly Twitter), writing: "And without knowing it, I had my Star before the game started.
"I know that you have given me the strength to achieve something unique. I know that you have been watching me tonight and that you are proud of me. Rest in peace dad."
The Spanish FA announced she found out about the death of her father after the full-time whistle.
"We send out most sincere hugs to Olga and her family in a moment of deep pain," it said on X.
"We love you, Olga, you are the history of Spanish football."
The Real Madrid star wheeled away in delight when her precise left-footed shot found the corner of Lionesses goalkeeper Mary Earps's net.
She lifted her shirt to reveal the message "Merchi" on her compression top, which was reportedly a tribute to a friend whose mother recently passed away.
The defender, who scored a late winner in the semi-finals against Sweden, was named player of the match.
Real Madrid said the club's "condolences and love" were with Carmona, her family and friends.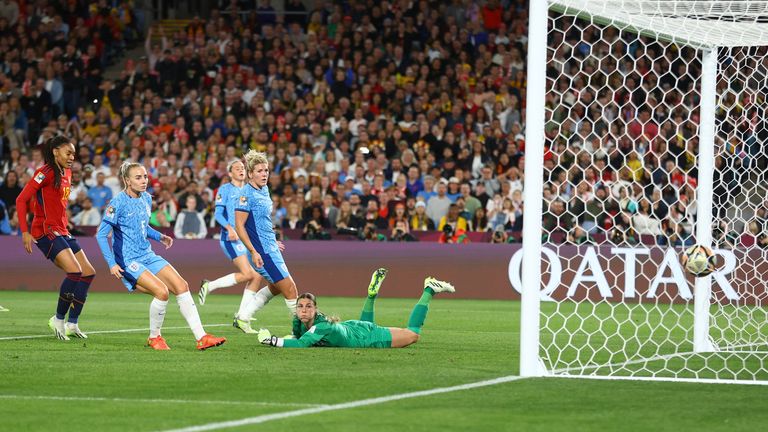 Spanish team 'had something special'
Carmona took part in the post-match celebrations with her teammates on the Stadium Australia pitch; dancing, getting her medal and kissing the trophy.
According to the Spanish FA, Carmona's father, who had a long illness, died on Friday – before the final got under way.
However, Spanish media outlet Relevo reported that family and friends decided not to tell her the news so that she could focus on the match.
Carmona's mother and brothers had rushed back to Spain – having been in New Zealand for the group stages – but arrived in Australia on Saturday to support her in the final.
It's the first time Spain have won the competition.
"We felt this team had something special," Carmona said after the game.
Before news of her father's death, the Spanish FA had said title celebrations would take place in Madrid when the squad return home on Monday.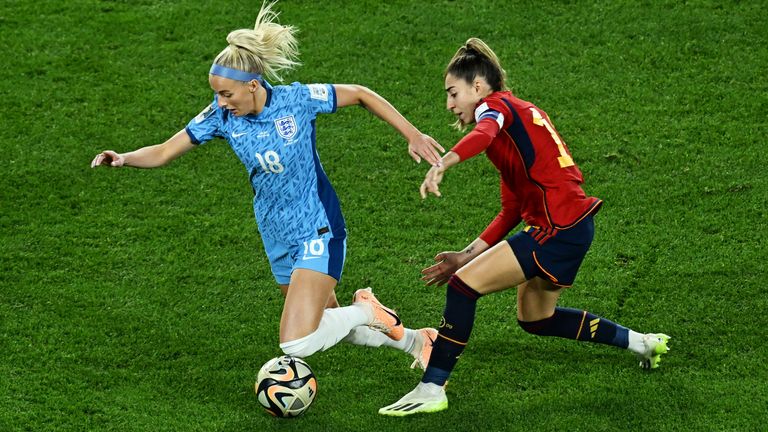 FA boss facing questions over kissing player
Meanwhile, the Spanish FA president is facing questions after footage emerged of him embracing and kissing a player during the post-match scenes.
Luis Rubiales appeared to kiss Jennifer Hermoso, Spain's all-time record goalscorer, on the lips.
She has been quoted in an interview with Spanish media as saying she did not enjoy the moment.
Hermoso played in the final, but missed the chance to score when her second-half penalty was saved by Earps.
Sky Sports News has contacted the Spanish FA for comment.