Irish pop group announce death of 'much loved bandmate' after a brief illness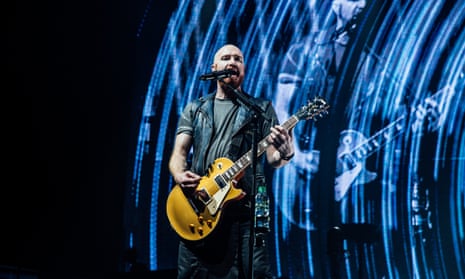 Mark Sheehan performing with the Script in Cardiff in 2020. Photograph: Dang Tra Xuan Minh
Mark Sheehan, guitarist with Irish pop band the Script, has died in hospital aged 46 after a brief illness.
Sheehan formed the band with frontman Danny O'Donoghue and drummer Glen Power in 2001.
In a statement on their social media pages, the band said: "Much loved husband, father, brother, bandmate and friend Mark Sheehan passed away today in hospital after a brief illness.
"The family and group ask fans to respect their privacy at this tragic time."
Sheehan was married to Reena Sheehan, whom he met while she was working as a session singer, and the couple had three children.
Last year, after the guitarist missed the US leg of the band's tour, O'Donoghue told Sunday World that Sheehan had taken a break to spend time with his family. He added that the group were supportive of Sheehan's decision and described them as "a band of brothers" who "stick together no matter what".
Sheehan later rejoined his bandmates for a number of shows in Ireland. The group are due to support US singer Pink at dates across the UK and Europe this summer.
O'Donoghue and Sheehan both grew up in Dublin and had been best friends since the age of 12.
The Script's self-titled debut album was released in 2008 and went to number one in both the UK and Ireland. It featured hits including We Cry, Breakeven, and The Man Who Can't Be Moved, with the latter peaking at No 2 in the UK singles charts.
Between 2010 and 2019, the band amassed more UK No 1 albums than any other Irish act.
Writing on Twitter, former Westlife singer Brian McFadden described the news as "devastating". "Mark was one of the good guys!" he said.
Former Boyzone singer Mikey Graham, whose bandmate Stephen Gately died suddenly from an undiagnosed heart condition in 2009, said: "Today we lost another young legend of music.
"I can and do understand the pain Glen & Danny are feeling right now and also their families. All my love and support I offer you at this time. You gave the world your music, it will carry you home, Mark."
Former Love Island host Laura Whitmore wrote on Instagram: "Thinking of you all at this time. Mark was one of the nicest and most talented men you could meet x."
Ryan Tedder, vocalist with American band OneRepublic, tweeted that Sheehan was "one of the nicest, most genuine people I've ever had the pleasure of touring with and getting to know". "Mark, u will be missed," he said.
The Irish culture minister, Catherine Martin, said Sheehan's loss was a "great shock to music lovers everywhere and to the Script's legions of fans around the world". "My deepest condolences to his family, fellow band members and friends," she added.