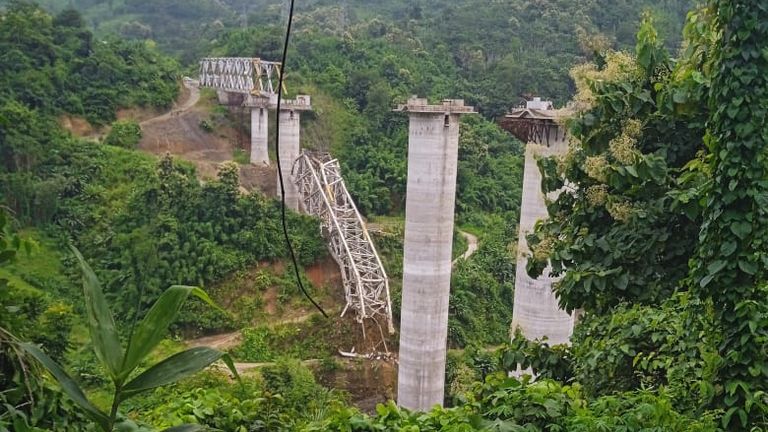 The collapse happened in Sairang, a town around 12 miles (20km) from the state capital Aizawl in Mizoram state in the northeastern part of the country.
Several others were injured, police said. The dead are believed to have been working on the site.
Around 40 workers were on the construction site at the time of the collapse. The bridge has been under construction for two years.
Rescue efforts are continuing. Rail authorities are also investigating the cause of the collapse.
People living nearby rescued injured workers and rushed them to hospital, police said. Rescuers from the government-run National Disaster Response Force also rushed to the scene to search for survivors.
"Rescue operations are underway and all possible assistance is being given to those affected," India's prime minister Narendra Modi said on messaging platform X.
"Deeply saddened and affected by this tragedy. I extend my deepest condolences to all the bereaved families and wishing a speedy recovery to the injured," chief minister Zoramthanga said.
India's transport infrastructure has long been marred by safety concerns, sometimes leading to major disasters on its highways and bridges.
In October last year, a century-old cable suspension bridge collapsed into a river in the western Indian state of Gujarat, sending hundreds plunging into the water and killing at least 132 in one of the worst accidents in the country in the past decade..